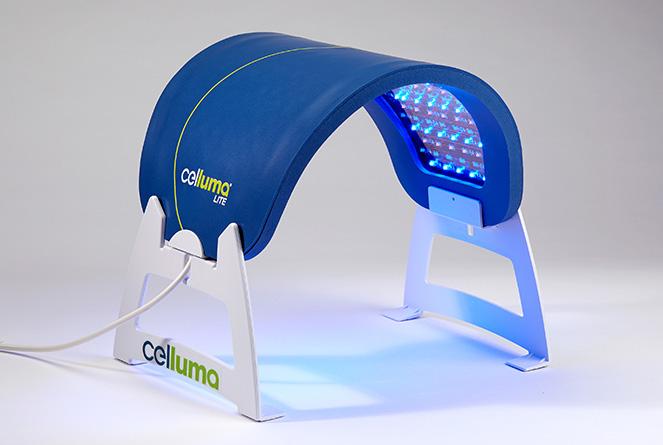 Celluma LITE
SAVE $100!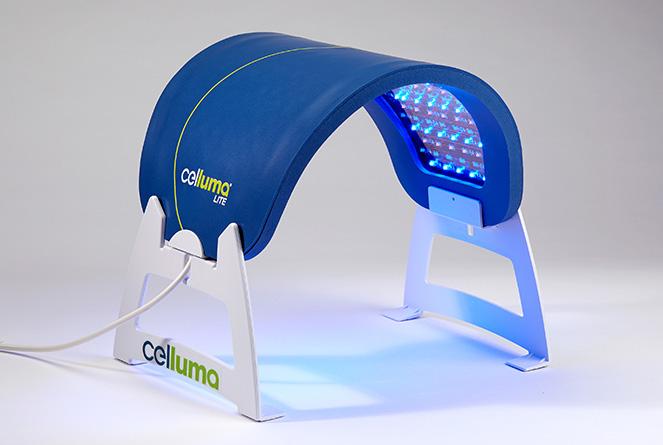 Healthcare Professionals and Authorized Resellers
Gain exclusive access to discount pricing on select models! Simply fill out a form, or contact us directly at (714) 978-0080
Description
Reviews
Shipping/Returns Policy
Description
The 3-mode Celluma LITE delivers the same powerful results as the Celluma PRO in a more compact size ideally suited for resale and travel. While designed specifically for positioning over smaller areas, such as elbows, wrists and knees, the Celluma LITE can be used anywhere on the body,  including over the face to treat facial skin conditions, acne and pain (pictured here in the Acne mode).
Celluma LITE measures 16" x 8" overall with a treatment area of 14" x 6". Included with purchase are 1 pair of Facial Rests, 1 pair of protective eye goggles and 1 Power Supply and International Adapter Kit (110 to 240V powered).
Celluma is cleared for Wound Healing outside the USA/CAN only
Reviews
*This area allows customers like you to express their own opinions and comments. Celluma does not represent or warrant the accuracy of any statements or product claims made here, nor endorses any opinions expressed within this section.
Shipping/Returns Policy
SHIPPING POLICIES
For your convenience, we offer various domestic and international shipping methods. However, please note expedited shipping times do not take into account the 1-2 business days it takes to process an order.
WARRANTY
A 2-year Manufacturer's Limited Warranty applies to Celluma devices shipped after January 1, 2019
RETURN POLICIES
All Celluma Series devices are classified Class II medical devices and are not resalable as new if used.
Unused devices may be returned at the buyer's expense to our facility in Anaheim for evaluation.
We are not responsible for product lost or missing during the shipping process. Therefore, we advise using a service that provides tracking and insurance back to our facility at the following address: BioPhotas, Inc. 1000 E. Howell Ave, Anaheim CA 92805. Attn: Returns.
Include your name and contact information.
Upon receipt of the device a full evaluation will take place.
If the seal has been broken on the Celluma box then it will be tested to determine if it has been used.
Celluma is unreturnable if used. No refund will be given.
Shipping fees are not refundable.
Even if the device has not been used but is damaged in any way, or the packaging shows signs of tampering, then the device will be evaluated and tested to determine the extent of the damage. The outcome of this testing will determine what refund, if any, applies.
If the seal is not broken, and there appears to be no tampering and no damage then no evaluation needs to occur. However, the buyer will not be refunded for the original cost to ship the device.
Description
Ready to begin? We're happy to enlighten you.
Discover which light therapy device is best for YOU:
All Models
Anti-Aging
Pain Management
Acne Treatment
PRODUCT
RETAIL PRICE
TREATMENT MODES
TREATMENT TYPES
FDA-Cleared
CE-Marked for
Dermal Wound
Healing in EU
Where to Use
Easy-to-UsE
Portable
Pulsing(may be turned off)
Facial Rests
Wavelengths
Overall Dimensions
Treatment Area
# of LEDs
Weight
Power Input
MOST POPULAR

Celluma PRO

£1,795

3-in-One Device
Acne, Wrinkles, Pain
(+ Wound Healing in
EU)
Yes
Yes
Use anywhere on
the body
Stand free + Hands
free
Very
Yes
Not required
Blue @ 465nm
Red @ 640nm
Near-IR @ 880nm
24" x 10"
16" x 8"
353 + 4 green
Indicator Lights
1.5lbs
110/240V

Celluma LITE

£995

3-in-One Device
Acne, Wrinkles, Pain(+
Wound Healing in
EU)
Yes
Yes
Use anywhere on
the body
Stand free + Hands
free
Very
Yes
Included with purchase
for facial positioning
Blue @ 465nm
Red @ 640nm
Near-IR @ 880nm
16" x 8"
14" x 6"
236 + 4 green
Indicator Lights
1lb
110/240V

Celluma FACE

£695

2-in-One Device
Acne, Wrinkles (+ Wound
Healing in Eu)
Yes
Yes
Use anywhere on
the body
Stand free + Hands
free
Very
Yes
Included with purchase
for facial positioning
Blue @ 465nm
Red @ 640nm
Near-IR @ 880nm
16" x 8"
14" x 6"
236 + 4 green
indicator lights
1lb
110/240V

Celluma DELUX

£8,995

3-in-One Device
Acne, Wrinkles and Pain
Yes
No (Pending)
Full body,
head to toe
Stand free and convenient storage (hang on door mount or roll to store), automatically timed treatment programs and automatic shut-off
Yes
Yes
N/A
2124 + 36 green indicator Lights
57" x 24"
4,251 CM²
N/A
6lbs
N/A

Celluma DELUX XL

£12,995

3-in-One Device
Acne, Wrinkles and Pain
Yes
No (Pending)
Full body,
head to toe
Stand free and convenient storage (hang on door mount or roll to store), automatically timed treatment programs and automatic shut-off
Yes
Yes
N/A
3177 + 36 green indicator Lights
65" x 30"
6,464 CM²
N/A
9lbs
N/A

Celluma HOME

£695

2-in-One Device
Wrinkles, Pain
Yes
Yes
Use anywhere on
the body
Stand free + Hands
free
Very
Yes
Included with purchase
for facial positioning
Blue @ 465nm
Red @ 640nm
Near-IR @ 880nm
16" x 8"
14" x 6"
236 + 4 green
indicator lights
1lb
110/240V

Celluma POD

£299

3-in-One Device
Acne, Wrinkles, Pain
Yes
Yes
Use anywhere on
the body
Handheld + Hands
free
Very
Yes
N/A
Blue @ 465nm
Red @ 640nm
Near-IR @ 880nm
4" x 5.75"
2.75" x 4.4"
33 + 1 green
Indicator Light
3.9oz
110/240V

Celluma SKIN

£1,595

2-in-One Device
Acne, Wrinkles(+
Wound Healing in
EU)
Yes
Yes
Use anywhere on
the body
Stand free + Hands
free
Very
Yes
Not required
Blue @ 465nm
Red @ 640nm
Near-IR @ 880nm
24" x 10"
16" x 8"
353 + 4 green
Indicator Lights
1.5lbs
110/240V

Celluma CLEAR

£495

1 Program
Acne
Yes
Yes
Use anywhere on
the body
Stand free + Hands
free
Very
Yes
Included with purchase
for facial positioning
Blue @ 465nm
Red @ 640nm
16" x 8"
14" x 6"
155
1lb
110/240V

Celluma SPORT

£1,395

1 Program
Pain
Yes
Yes
Use anywhere on
the body
Stand free + Hands
free
Very
Yes
Not required
Blue @ 465nm
Red @ 640nm
Near-IR @ 880nm
24" x 10"
16" x 8"
353 + 4 green
Indicator Lights
1.5lbs
110/240V

Celluma ELITE

£2,995

3-in-One Device
Acne, Wrinkles, Pain
(+ Wound Healing in
EU)
Yes
Yes
Use anywhere on
the body
Permanently
stand-mounted with
articulating arm
On wheels for mobility
Yes
Not required
Blue @ 465nm
Red @ 640nm
Near-IR @ 880nm
24" x 10"
16" x 8"
353 + 4 green
Indicator Lights
63lbs
110/240V