Celluma: Professional LED Light Therapy Machines at Home
The future of radiant skin has arrived! Get your face "red carpet" ready in the comfort of your own home with the Celluma LED Light Therapy HOME machine, an award winning LED light therapy device for the treatment of skin and pain conditions.
Benefits of Glowing Skin
Now you can put your best face forward. The Celluma HOME is the anti-aging LED light therapy machine that every household should have to combat under-eye wrinkles and those pesky fine lines on your face that won't seem to disappear no matter what you try.
There are so many red LED light therapy products on the market, how do you know which one is the right purchase to get you the results and glowing skin you want?
Best LED Light Therapy Machines
If you are looking for an LED light therapy product to combat the fine lines and wrinkles that age brings to the face and maintain a more youthful glow and beautiful skin, all from the comfort of your own home, then the Celluma HOME LED light therapy device is your non-invasive, non-pharmaceutical secret weapon for the best results.
Your Skin Will Thank You
Focused on fighting visible and physical signs of aging, this LED light therapy medical device is FDA-cleared to treat both wrinkles and alleviate a variety of pain conditions.
Its innovative, flexible, and shape-taking design ensures maximum efficacy since this device can get so close to the actual treatment area of the skin.
Effective Red Light Therapy
A large coverage area, for the face, neck and décolletage, and lightweight construction make this LED light therapy machine a portable hi-tech beauty essential you never ever have to do without.
Clinically Proven LED Light Therapy
Using powerful, clinically proven, NASA-researched technology, the Celluma LED HOME machine reduces fine lines and wrinkles on the face, as well as treating general pain, in just minutes a day.
Amazing Benefits and Results
The results will truly amaze you! For examples of how Celluma LED Light Therapy devices can improve the skin on the face, click here for Before and After photos of real Celluma users. The results and improvements in the skin with a few weeks of Celluma treatments tell the story best.
Device Specifics
The Celluma HOME measures 16" x 8" overall with a treatment area of 14" x 6." For more details about the Celluma HOME, click here.
More Options to Choose From
However, our Celluma HOME device isn't the only red LED light therapy panel cleared for home use that will give you excellent results. In fact, all of our award winning professional LED light therapy devices can be used at home.
If you happen to be looking for a device that deals with not just the wrinkles on your face as well as pain, but also acne, look no further than the Celluma LITE or PRO models, also available as battery-powered options with the iLITE and iPRO. And acne isn't just an issue for the face. These LED light therapy devices can be used on skin elsewhere to deal with back and shoulder acne, too.
Benefits of Full-Body LED Light Therapy
And let's not forget that wrinkles don't just form on our face! For full-body coverage with great results, our Celluma DELUX and DELUX XL devices can't be beat! Now you can enjoy proven, head-to-toe red light therapy with the first ever portable, space-saving, full-body LED devices.
The Celluma DELUX, which hangs conveniently on the back of a door when not in use, offers all the skin care and pain management advantages of a light therapy bed without the space requirement or exorbitant price tag.
Perfect for home users looking for a device that can address both pain and joint issues, as well as skin conditions such as back acne.
Small but Mighty
If you are looking for a smaller portable red light therapy device, then the Celluma POD is a great addition to your gym bag or purse so you can treat your face on the go! Boasting the same efficacy and 3-in-1 versatility of Celluma's larger professional light therapy panels, the POD is the only handheld red light therapy machine on the market FDA-cleared to treat acne, pain, and aging skin in a single device.
Targeted Skin and Pain Treatments
Amazing results in the palm of your hand! The Celluma POD has the same energy output per centimeter squared as the larger light therapy panels in the Celluma SERIES. Ideal for targeted treatments on your face and joints, or on-the-go use, this portable, cost-effective and professional-grade light therapy device is the only handheld you will ever need.
LED Light Therapy for Hair Restoration
LED light therapy is now emerging as an effective treatment for those suffering from hair loss. Male pattern baldness, also known as androgenetic alopecia (AGA), accounts for 95% of hair loss in men.
Research shows that by age 35, more than two thirds of American men suffer from hair loss and by age 50, 85% of men deal with thinning hair. Androgenetic alopecia is a common hair loss condition that is characterized by the miniaturization of hair follicles in the frontal and parietal regions of the scalp.
Women Suffer, Too
Hair loss is not a strictly male health concern. Women make up a significant percentage of those suffering from hair loss. According to the American Academy of Dermatology, 40% of women have visible hair loss by the time they are age 40.
Hair loss in both women and men can have an emotional toll impacting their self-image and potentially their mental and emotional well-being.
The Need is Great
The market for real hair restoration solutions is booming. The global hair restoration market was valued at $4.159 million in 2020 and is expected to grow by 15.4% over the next few years. LED Light therapy compliments currently existing treatments and procedures (prescription drugs, PRP, stem cells, transplant surgery) to enhance an individual's outcome for maximizing hair growth.
Science Supports Using LED Light Therapy
Low-level light therapy is a proven, effective and safe treatment for hair loss, aging skin, and a variety of pain conditions. It is also non-invasive, non-toxic, and painless. It enhances hair growth by targeting and boosting the biochemical processes in the scalp and hair follicle.
What the Research Says
It is thought that through photobiomodulation, red light energy emitted by low-level light therapy devices may encourage hair growth by accelerating keratinocyte and fibroblast mitosis, inhibiting nitric oxide and reducing inflammation. (1-4)
Red light LED devices have been cleared by the FDA for the treatment of male and female pattern hair loss. It helps to proliferate hair follicle size and prevent catagen hair development (the end of the active growth of a hair). Substantial research has supported light therapy's ability to regrow hair lost due to androgenetic alopecia with minimal degrees of side effects and adverse events.
References:
1. Lubart R, Eichler M, Lavi R, Friedman H, Shainberg A. Low-energy laser irradiation promotes cellular redox activity. Photomed Laser Surg 2005; 23: 3–9.
2. Eells JT, Wong-Riley MTT, VerHoeve J et al. Mitochondrial signal transduction in accelerated wound and retinal healing by near-infrared light therapy. Mitochondrion 2004; 4: 559–567.
3. Sakurai Y, Yamaguchi M, Abiko Y. Inhibitory effect of low-level laser irradiation on LPS-stimulated prostaglandin E2 production and cyclooxygenase-2 in human gingival fibroblasts. Eur J Oral Sci 2000; 108: 29–34.
4. Darwin E, Heyes A, Hirt PA, Wikramanayake TC, Jimenez JJ. Low-level laser therapy for the treatment of androgenic alopecia: a review. Lasers Med Sci 2017; 33: 425–434.

14 LED Light Therapy Devices
Check out all of the Celluma SERIES light therapy devices here. For an explanation on FDA cleared and FDA approved click here.
Superior Design For Maximum Results
Bend, Flex, and Contour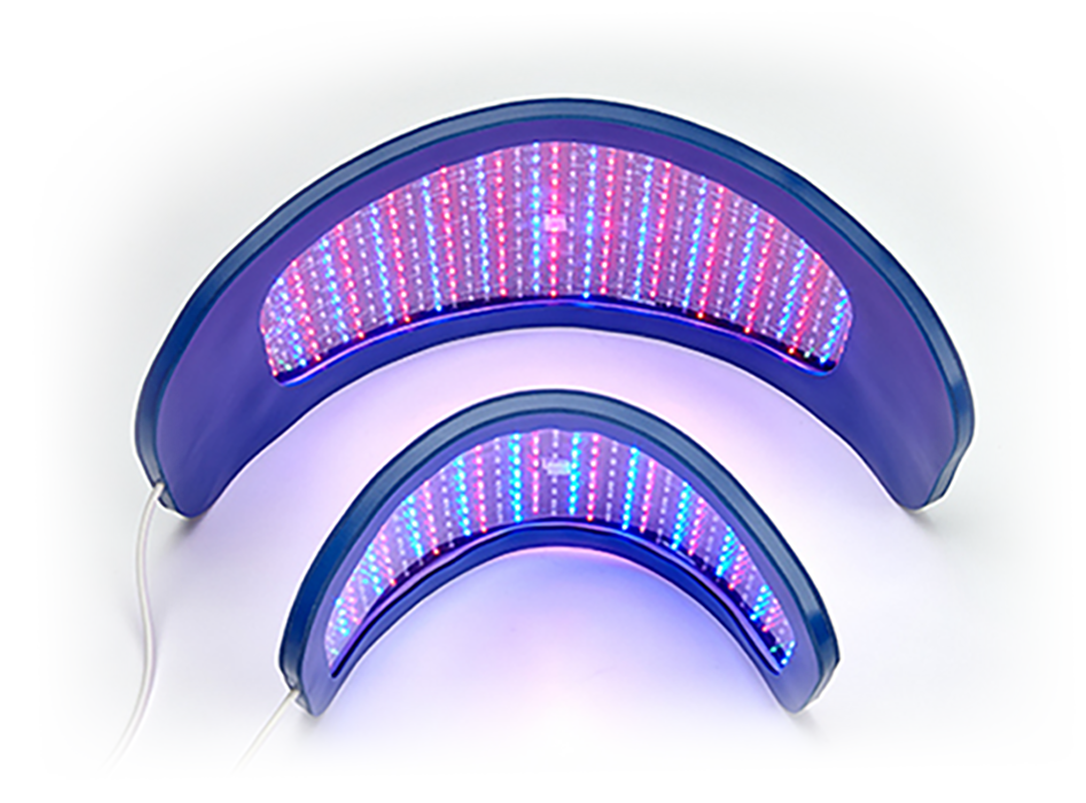 Powerful low-level cell repairing LED technology
Flexible design contours to fit your body for maximum healing potential
Our International Distributors
If your country is not listed, please email info@celluma.com
Changing Lives
Around The Globe
Urszula Alexksandra's European Skin Care
Celluma creates a relaxing spa atmosphere for my clients. It's one of the best investments I've made in my business.
Trecy Marr L.E. Trinity Esthetics
+
I've been utilizing LED for years but the Celluma panel has made the treatment oh so much easier. You do need to have... LED very close to tissue which is why the Celluma is a lifesaver. Love, love, love the ability to wash, scrub, extract, LED, treat, mask, etc, and be done. The results are fantastic!
A Marine's Story:
Treating Pain With Celluma
During my recovery, Celluma really helped in bringing me back to whole again."
- Steven C. Lubich, Retired Marine
+
Jenny Zarate Licensed Esthetician - Montara, CA
I was a bit hesitant at investing in a Celluma, but I shouldn't have hesitated; I couldn't be happier. The results are fast... and remarkable. My clients love it. I love it. On another note, the customer service is beyond amazing. They are quick to respond to questions and inquiries and beyond friendly! Thanks for transforming my business!
+
Elyse Helene L.E. Love Skin Nashville - Nashville, TN
LOVE Celluma! One of my favorite necessities to my treatment room! I have been a licensed Esthetician for 9 years and have... no idea how I lived without this before! I have clients with acne and Celluma helped rid and smooth out the texture. For clients with aging skin; their skin starts looking firmer & tighter. Many clients call this my "magic light," because to them it really is magic! I could go on and on about the stories and positive results with this device, but that would be too much to read. Lastly, you can have a good product, but the customer service and support is on par as well (which can be hard to find), every time I call in to ask a question, everyone is so helpful & friendly. I would highly recommend trying a treatment with Celluma or buying the device.
Celluma light therapy is non-invasive, painless, requires no recovery time, and can be used on all skin types.